products
about
capabilities
contact
^


Custom Fabrications. Big Vision.
About

| How we

fabricate

and

customize

for

you.
Roberts Architectural is not your run-of-the-mill, mass-produced fabricator. Every job is tailored to meet the client's needs.
Roberts Architectural maintains a diverse machine shop capable of fabricating products out of any number of materials, including stainless steel, aluminum, and plastic or fiberglass laminant.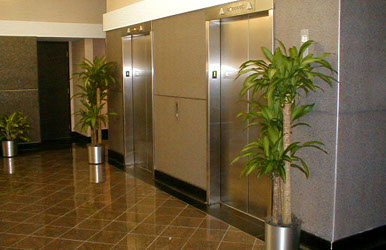 Roberts Architectural gives each job the attention it deserves. Roberts Architectural reviews and attends to every detail in order to manufacture the best product possible.
Roberts Architectural Products has been in business for 21 years. Bill Roberts started Roberts Architectural Products in 1992 when he realized there was a need in the market for custom solutions. Though Pittsburgh offered many premiere industrial fabricators, few offered the level of custom fabrication and professional attention to detail that Roberts Architectural could. To this day, Roberts Architectural provides custom fabrications with the professional attention to detail that you've been looking for.
Products | What products we can fabricate for you.
Roberts Architectural is able to fabricate your product using virtually any material. The following are the most commonly used materials:
Brass
Steel
Stainless Steel
Aluminum
Plastic or Fiberglass Laminant
Metal Cladding
Capabilities | What capabilities we have for you.
Welding capabilities include:
We are able to perform many different finishes with our buffing machine and straight line sanders, from a #8 mirror to a #4 satin finish. Also, many of the materials we use are available in embossed or rolled finishes.
We can accomplish most general machining projects in our machine shop on our manual lathes and milling machines. Also, we have many saw cutting options such as our horizontal and vertical bandsaws. Wood cutting is also available on our 60"x120" panel saw and table saw.
TIG welding of all metals
MIG welding on steel, stainless steel, and aluminum
Spot welding up to 1/4" thickness
Silver soldering
Stud welding
We can laminate and clad most materials both in the field and in our shop. Laminating capabilities include:
Metal to Metal
Metal to Wood
Wood to Plastic or Fiberglass
And others
We can shear up to lengths of 120" at 1/4" thickness. Our bending capabilities include a 48" x 16 gauge Tennsmith Fingerbrake, 120" x 14 gauge Niagara hand brake and a 144" 60 ton Verson press brake. We also have two 30 ton Strippitt punching machines with a wide assortment of round, oblong, square, rectangle and special dies along with corner notching capabilities.
Contact Us | There are many ways to get in touch with us.
©2012 Roberts Architectural Products